Begin main content: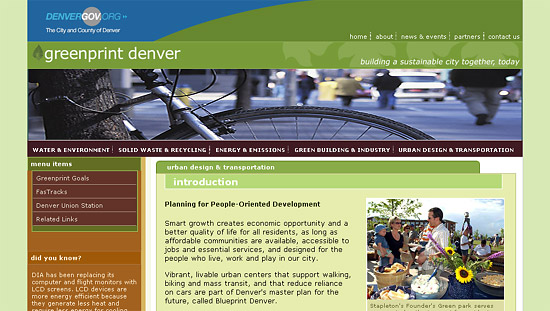 Project
Greenprint Denver
Office of the Mayor
City and County of Denver
Lifecycle: July 2006 - December 2009
www.greenprintdenver.org
Goal
Build a unique and friendly Web site to support a strategic mayoral initiative.
Scope of Work
Greenprint Denver is an exciting, long-term initiative of the Denver Mayor's Office to integrate environmental impact considerations into the city's programs and policies and reduce citywide greenhouse gas emissions in accordance with the U.S. Mayors Climate Protection Agreement.
As a citywide initiative with deep roots in the metro area residential and business communities, project partners sought a nontraditional design that would reflect and reinforce concepts outlined by the initiative, increase public awareness about sustainable practices, and give a distinctively inviting feel.
I designed the site using a rich, earthy color palette and developed it with an advanced, standards-compliant, and accessible table-free XHTML and CSS layout. The site launched on schedule on July 12, 2006 for Mayor John W. Hickenlooper's annual State of the City Address.
Production Services
Visual design & graphics
Information architecture
Content management
Copyediting, copywriting
A Google Maps mashup for tree planting events (Gmap API, Geocoder & JavaScript)
Several custom database-driven input forms (MySQL, PHP)
A seamlessly integrated Wordpress blog
Custom RSS feeds
Integrated page tools
Sitewide Zoom search engine
Recognition





The Web site received a 2007 Art Director's Club of Denver Interactive Merit Award. The ADCD is a local nonprofit association that supports and promotes Colorado-based design professionals and agencies. The site was also featured in several online design galleries. Many thanks for the support and recognition!
End of main content.