Begin main content: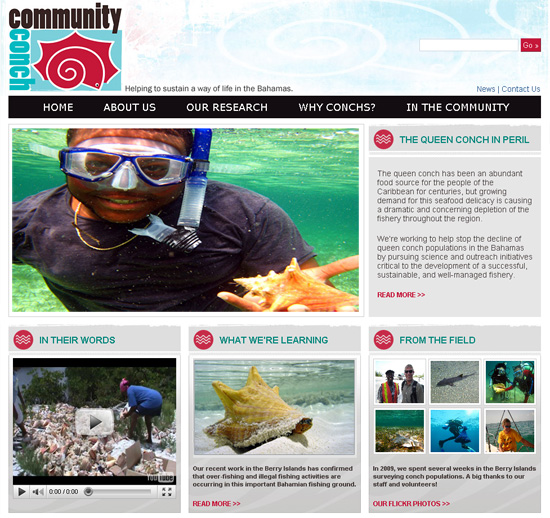 Project
Community Conch
Created: January 2010
www.communityconch.org
Goal
Create a brand identity for a new nonprofit organization.
Scope of Work
As a new nonprofit, Community Conch needed a strong website presence to complement the splash they made with their groundbreaking research. Beginning with a single report, the site was shaped with growth in mind so that their staff can add educational content and publicize future findings. The design is strong, open, and uses limited colors as a backdrop for the original photography taken by Community Conch staff. It serves to distinguish the website from tourism-style products and connect directly with the Bahamian community. A super fun project and my first logo design.
Production Services
Identity strategy, logo design
Website design, information architecture
Custom Wordpress theme (PHP, XHTML, tableless CSS)
Wordpress installation (MySQL)
Wordpress plug-in configuration
Google Map with a custom horizontal slider
Carbon-free certification by Co2Stats
End of main content.