Wednesday, September 12, 2007 10:57 pm
Those who know me know that I think LinkedIn is a great networking tool for business professionals, entrepreneurs and creatives. And I'm not alone: since I joined in December, the social networking site has grown from about 8 million users to more than 14 million. Citing the growing trend among people who use the site to find new employees or expand their business contacts, Business 2.0 Magazine says that " if you're not LinkedIn, you're left out."
It looks like U.S. Sen. Barack Obama took that advice to heart. He caused quite a stir on LinkedIn today by being the first invited guest to pose a question during their special Q&A event on tech entrepreneurship for startups and small businesses.
It was a bold move for two key reasons.
Three Degrees of Separation
First, Obama (or one of his campaign staffers) now has an official LinkedIn profile — another big step for his campaign, which has completely embraced the Internet and Web 2.0 technologies. The Obama campaign has already built a presence on MySpace, Facebook, YouTube and Flickr. They also maintain a highly customizable community site with multiple blogs and personalization tools. But, this is the first time a presidential candidate crossed over to the business social networking community.
Obama staged his own personal public town hall meeting, similar to the recent Democratic Party YouTube debate. But instead of answering questions from the public, he was able to pose his own. LinkedIn promoted his nonpartisan question front-and-center on the login screen for all users, which asked, "How can the next president better help small business and entrepreneurs thrive?"
That action made his campaign seem very personal and reachable, and it was well received by the LinkedIn community. When I first checked in about four hours after his question was posted, there were 316 answers. That grew to 752 by mid-afternoon, 970 by early evening, and at last check there were more than 1,100. That's huge considering that most LinkedIn questions receive about 10-20 answers, with some popular ones collecting more than 100 answers.
The level of professionalism of the answers is amazing and thoughtful (which is usually the case for most of the Q&A participants), with people suggesting that the government help promote business incubators, startup funding, renewable energy, local markets, tax reform, and universal healthcare coverage, among other comments.
Polling the Masses
Secondly, this was the first time LinkedIn provided a promotional opportunity for a political campaign. While there are a few elected officials and their staff in the network, to date, the community has been mostly oriented around business, with most questions focused on recruiting, employment, mentoring and similar topics.
A couple of related questions were posted by other networkers who were concerned about the implications of Obama's high-profile question and whether it would change the focus of the LinkedIn community by becoming more politicized. Jim Boesel, a technical recruiter at Yahoo, asked this question:
"Is Barack Obama's recent use of LinkedIn the right use of LinkedIn? His bannered question was clearly politicking. In a matter of days as word gets out more politicians, special interest groups, retailers, and who knows who else will follow suit. LinkedIn is the number one networking tool but what happens if it goes down this path?"
It appears that LinkedIn does, indeed, expect the site to become a resource for politicians and elected officials. According to an article in Computerworld, Dan Nye, CEO of LinkedIn, issued this statement:
"LinkedIn Answers provides an ideal forum for political candidates and campaigns to communicate with a high-level professional audience on key business issues. We expect candidates from all backgrounds and all levels of government, from city council races to the presidential campaign, will take advantage of LinkedIn as a highly effective online tool for reaching the business audience."
But, they also made it clear that they are not endorsing any campaigns. The official LinkedIn blog has this disclaimer:
"We welcome participation from candidates of all parties asking questions to LinkedIn's professional and business community. We also appreciate your active participation through your answers, questions and comments."
A Win-Win Strategy
I think this is an interesting and exciting new path for LinkedIn. It was a positive move that will really bring them some intense publicity. Furthermore, it validates LinkedIn as an effective communications tool not only for the business community, but also to complement public engagement efforts.
That said, I'd like to see LinkedIn provide a better way to sort and subscribe to different topics within one's profile, rather than via the RSS feed — maybe by offering a better geographic filter at the user level. People who ask questions can target a specific geographic location, but users can't specify geographic interests in their profiles.
As it stands now, there are hundreds of questions to page through; if the user base grows to follow political campaigns, or if regional politicians or other high-profile members dominate the Q&A board, the list will only get longer. Additionally, a geographic filter would enable local politicians to better connect with their bases, rather than the entire international network.
LinkedIn's little-known groups feature should also get more use now. The paid service enables professional associations, such as those for alumni, technical and trade groups to create "badge" that their members can display on their profiles. For example, I'm a member of the Usability Professionals Association LinkedIn group. What's nice about this is that I can see the member roster and connect with peers in my field.
They've expanded this service to nonprofits, and now to political campaigns. In my network, more than 350 brave souls have joined Obama's LinkedIn group and are proudly displaying the badge on their profiles. This is a really novel concept for me, and I question the professionalism of that act – essentially, it's the same as adding a political sticker to your resume.
The Questions & Answers feature might also get a bump up from this. I've really embraced this service as a way to help others and to gain a bit of mentoring from the more experienced members in my network.
I certainly don't answer the questions to demonstrate my "expertise," which is rated by the person asking the question and reflected on your profile with little green stars. But it's fun that I've accumulated five "expertise" stars so far in the Web Development category – a hard one to get noticed in because it seems that people are really hesitant to rate their questions. In my expanded network, I'm ranked the fifth expert and the only woman among the top 15 experts. I don't know how long I'll keep that ranking, but it's nice to share the limelight a little bit right now.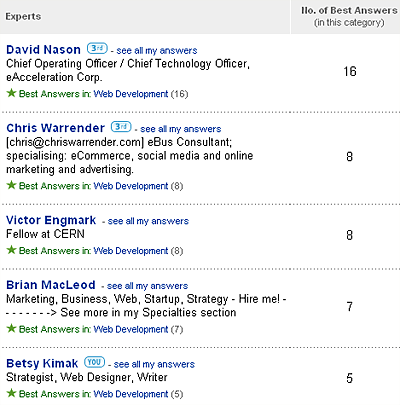 Mixing Business With Pleasure?
That brings me to a couple of final thoughts. I think there's a fine line between sparking an effective public debate and politicizing the LinkedIn community. Some members regularly post comments that are very personal in nature, which reflect their views on politics, religion, social issues and other topics that are traditionally off-color in the workplace.
It seems as if they have forgotten that prospective employers and business partners regularly use LinkedIn as a tool to learn about candidates. This may reflect an interesting convergence between Web 2.0 and traditional business culture. With the advent of blogs and social networking sites, is it now OK to express your personal beliefs without the threat of employment discrimination? Or, are the LinkedIn members just secure enough in their own positions that they can buffer any potential harassment?
I also recognize a public relations challenge for future candidates and "celebrities" in that as they pose questions, things could turn into a banal popularity contest (so and so received more answers…)
And there's a risk of appearing superficial and self-promotional if answers aren't reviewed and acknowledged. I anticipate the Obama blog will recap and respond to the experience and the comments they received once the question is closed. With good follow up, they can easily shed off any criticism of shameless politicking and emerge as an in-touch and exceptionally technically savvy campaign – definitely something that anyone in public relations should watch closely.