Sunday, September 11, 2011 5:09 pm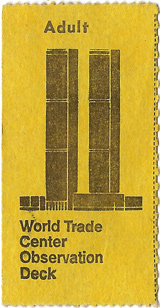 Ten years ago I was on the City of Denver's web team, acting as part lead webmaster and part managing editor to oversee its home page. The morning of September 11, 2001 started just like any other. We hadn't left for work yet when my husband Richard turned on the TV to check the weather. As we were trying to make sense of the scenes being replayed over and over, the North Tower collapsed.
Everything had happened in what seemed like the blink of an eye. Our campuses went into lockdown so neither of us went to our offices that day. We were glued to CNN, watching…waiting…wondering. But as horrified as we were, there was comfort in knowing that we were together no matter what happened.
My thoughts that day were on the people who weren't so lucky. On the tremendous loss, pain and anguish so many experienced…on those who lost loved ones. And that has been the case every anniversary since…my heart goes out to you.
Beginning that afternoon, and in the weeks and months after, we evolved into a newsroom, guided by the mayor's press secretary, and ran play-by-play 9/11 coverage on the city's website — information about travel restrictions, security closings, Red Cross donations, and other ways for Coloradans to help. We also featured an online memorial for people to post their thoughts and remembrances. I remember how often I was moved to tears by the candid stories that people shared with us, and with the world, on the website. This was well before mainstream blogging and online comments and social media, but for those months I saw how technology could bring people, neighborhoods, and a whole city together.
When people say that they knew life would never be the same after 9/11, it has always seemed na´ve to me. But I guess it is true. Growing up in Colorado, Denver was always my small town. It wasn't after. Within a week, keypad locks were installed on our office doors, followed by security screenings, and emergency drills, then everything else. And how unbelievable that ten years later, still, a security guard would chastise Richard and I for audaciously pausing to watch the sunset in a parking lot. Even though I'm traveling the same streets from my youth, more and more of those spaces seem off limits.
Using technology to connect people during a crisis the way we did a decade ago is commonplace on the Internet today. Events play out on Twitter and Facebook now and the immediacy of information is both amazing and overwhelming. We process things so quickly, without much time for reflection. But the profound way it is changing us as a society, globally, as human beings — in the blink of an eye — is extraordinary. Every day I am inspired and hopeful. Let it make us better.