Tuesday, October 2, 2007 5:57 pm
I'm not quite ready to splurge on an iPhone yet, but I have been intensely curious to see what kind of user experience it provides and how different Web pages load on its tiny 320×480 screen. So when my husband and I were in Boulder on Saturday at the Twenty Ninth Street shops, I had my camera with me and I snapped a couple of photos of the Greenprint Denver Web site on the iPhone at their Apple Store: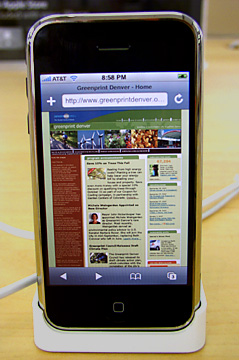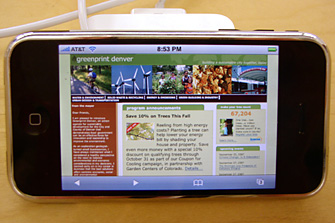 Truthfully, I didn't expect any significant problems — Apple has done a great job to ensure that most Web sites look good on their mobile Safari browser, and the Greenprint site is standards compliant. But I was a bit concerned about the three-column, CSS-only layout I used for the site's home page, which was somewhat experimental when it launched last summer.
I was pleased to see that it renders properly in both vertical and horizontal layouts, as do the inner two-column pages: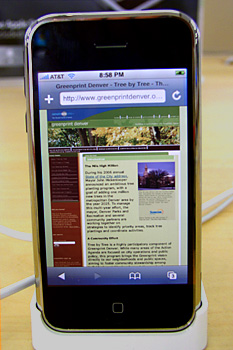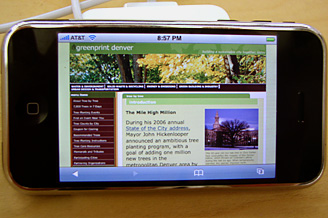 My test run of the iPhone made me think a lot about its impact on Web design, and I'll be sharing some thoughts and suggestions in future posts. Oh, and yes, the photos are actual size…give or take a millimeter here or there.